In 2020, the world experienced unprecedented times. Businesses all over the world were closed, and stay-at-home orders were issued causing people everywhere to shelter in place for months. While the pandemic has caused major stress and inconvenience in nearly every aspect of life, one was especially affected – dating.
Dating relies on connecting with people, both emotionally and physically, which became unsafe and difficult as the COVID-19 pandemic raged on, leaving singles facing a more difficult dating scene than ever before. But, as the world opens back up and vaccines are becoming available to everyone, there's hope for singles to get back in the dating game. To learn more about how people plan to navigate rejoining the courtship scene, we surveyed over 1,000 singles across the U.S. We asked them about their dating trials throughout the pandemic and their future plans for finding companionship.
Status Changes
In addition to 15% of Americans losing their job during the pandemic, we found that many of our respondents endured heartbreak as well. Nearly 63% of people surveyed were in a relationship that ended during the pandemic, with 2 out of 3 of these people believing COVID-19 was the impetus behind the breakup.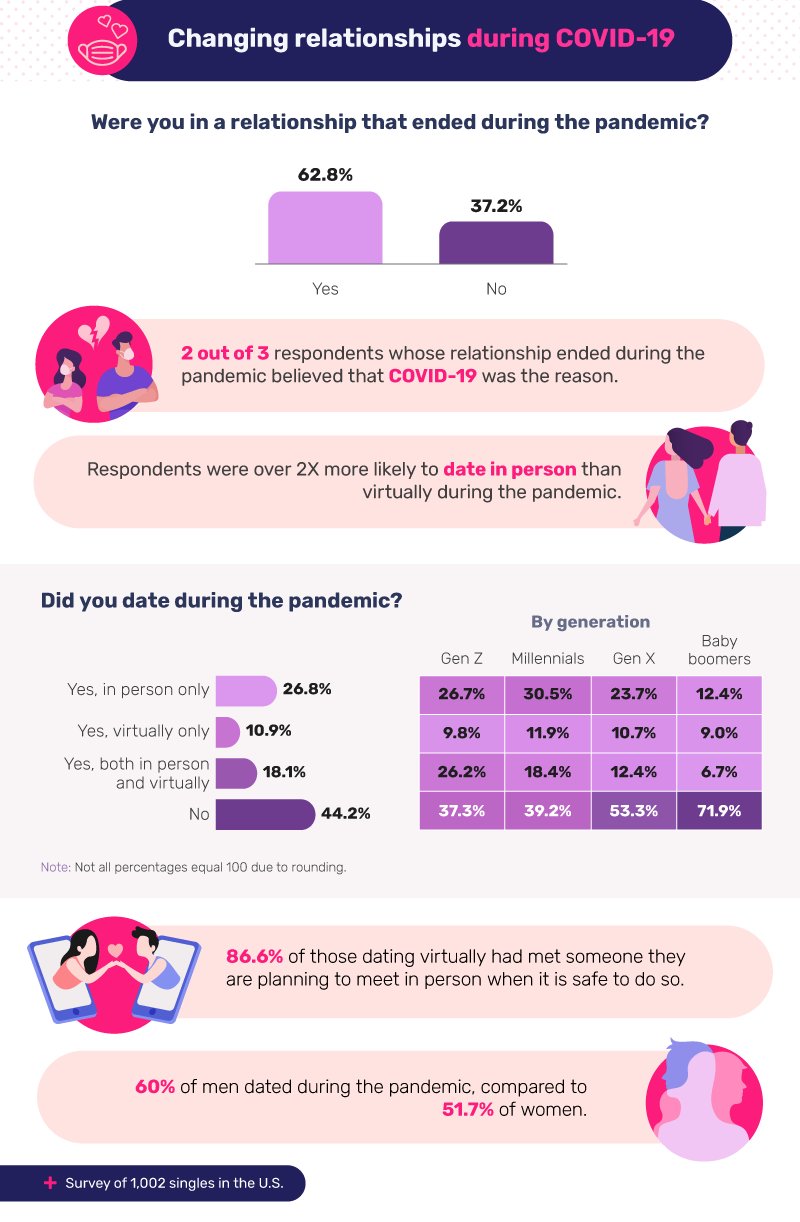 Nevertheless, thanks to dating apps and other methods of online dating, some singles were able to seek new partners despite the pandemic. In March, only a short time after stay-at-home orders were issued, dating app Bumble saw a 26% increase in messages, and Tinder saw the length of conversations increase as well. We found that more than half of our respondents dated during the pandemic, with 1 in 6 men saying they did so, compared to nearly 1 in 5 women.
What's interesting is that almost 27% said they only dated in person, with millennials being the riskiest rompers we talked to. Another 18% of respondents said they dated both virtually and in person; Gen Zers were most likely to follow this hybrid dating format.
Getting Back in the Game
After some time sitting it out, getting back out there and meeting new people can be difficult. In fact, 57% of our respondents said they felt rusty when it comes to dating and expected to be awkward on first dates. But, 1 in 3 respondents admitted they were looking to make up for all the lost time they experienced due to the pandemic.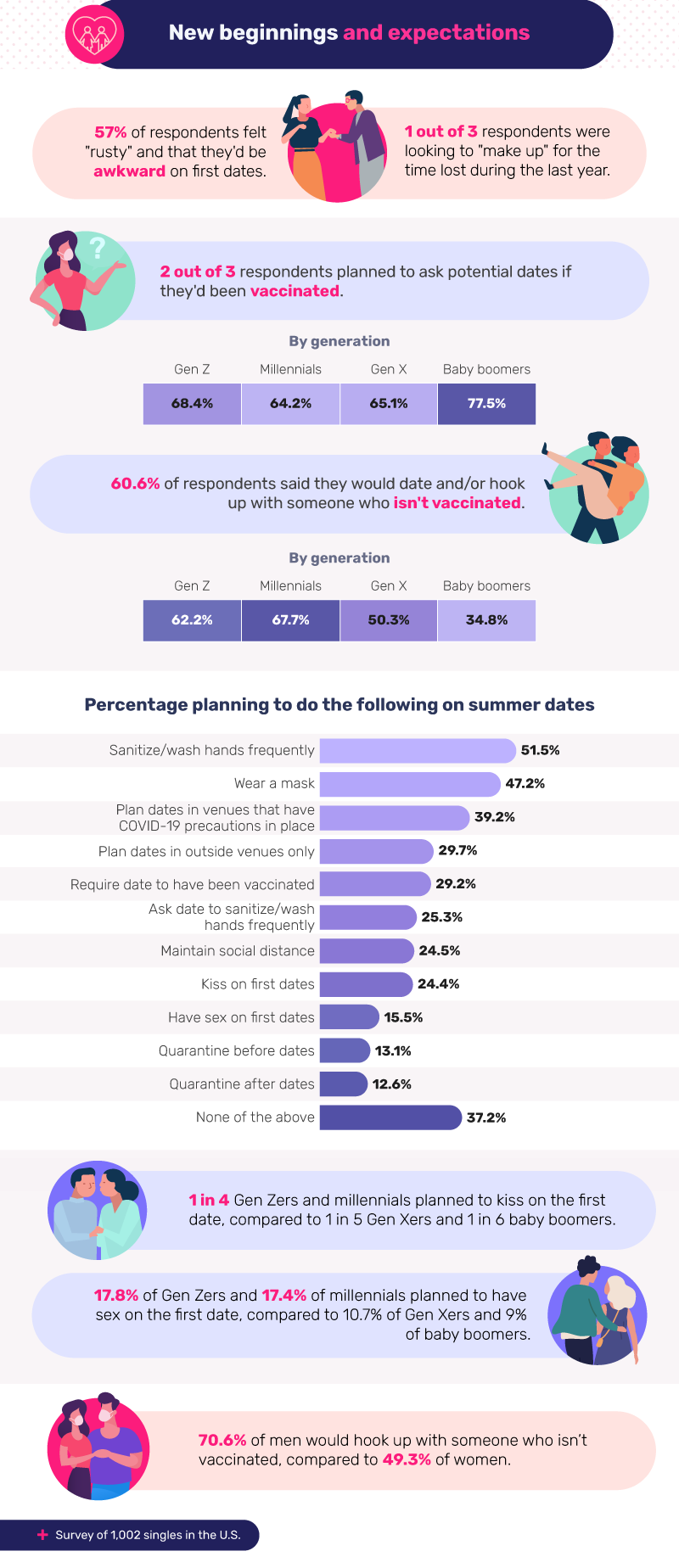 Two out of three respondents planned on asking dates if they had been vaccinated, although 60.6% of respondents admitted they would date or hook up with someone who hadn't received the COVID-19 vaccine. The biggest risk-takers here? Men, with 1 in 5 of them claiming they'd hook up with someone who wasn't vaccinated, while only 1 in 5 women said the same. But as they say, when you know, you know, and 15.5% of our respondents planned to have sex on the first date. When looking at it by generation, millennials and Gen Zers were most likely to say they planned to have sex on first dates in the post-pandemic world.
The Centers for Disease Control and Prevention (CDC) guidelines suggest that fully vaccinated people can gather with other fully vaccinated people without masks with minimal risk but still encourage social distancing when possible. More than half of our respondents planned on following guidelines like washing their hands frequently while on dates, and almost half said donning a mask during their dates was likely.
Finding Love
So how do people plan to find the one? Well, nearly half of respondents were relying on their friends, apps, or online platforms to make a connection for them. The bonus? Now they can actually meet up with people face to face.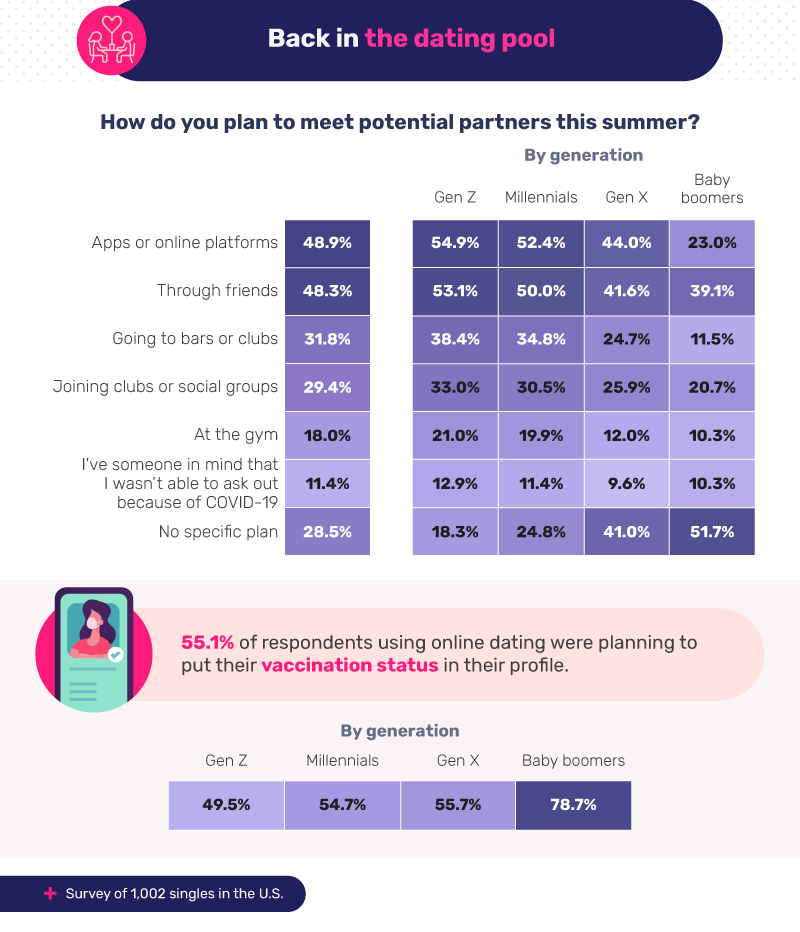 Just under a third of our respondents planned on finding love in a bar or club, with Gen Z the generation most hopeful of connecting with someone special in these settings.
As far as sharing their vaccination status, more than half of surveyed online daters planned on putting their vaccination status on their profile. This was most appealing to baby boomers – one of the most at-risk populations for COVID-19 – and least appealing to Gen Zers.
Once people find someone they're interested in, they're likely going to want to arrange a date. Fifty-five percent of respondents planned on going back to basics with their dates by going to dinner at a restaurant.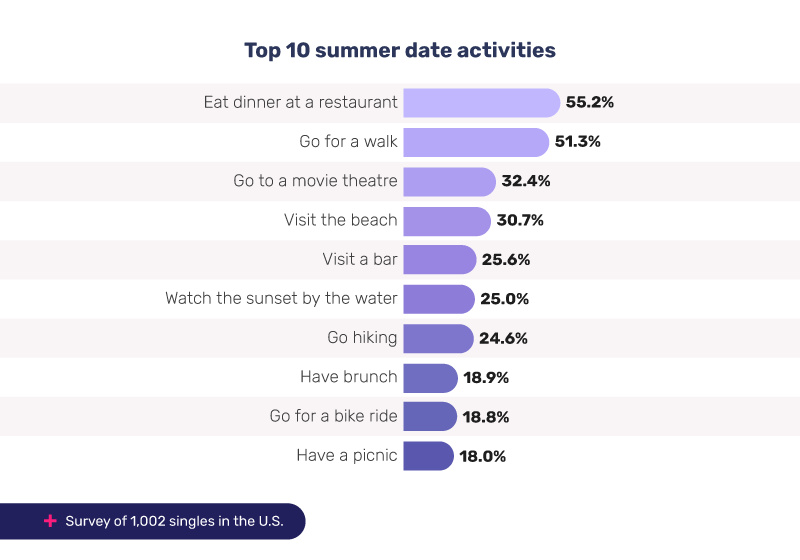 Outdoor activities were also quite popular with our respondents: more than half wanted to go on a romantic walk, almost 1 in 3 hoped to hit up the beach, and 1 in 4 planned to watch the sunset with a potential partner.
Getting Busy
Once the date is over and sparks are flying, are people comfortable getting closer? Well, more than half of people intended to be just as sexually active as they were during the pandemic, and just over 30% planned to be more sexually active.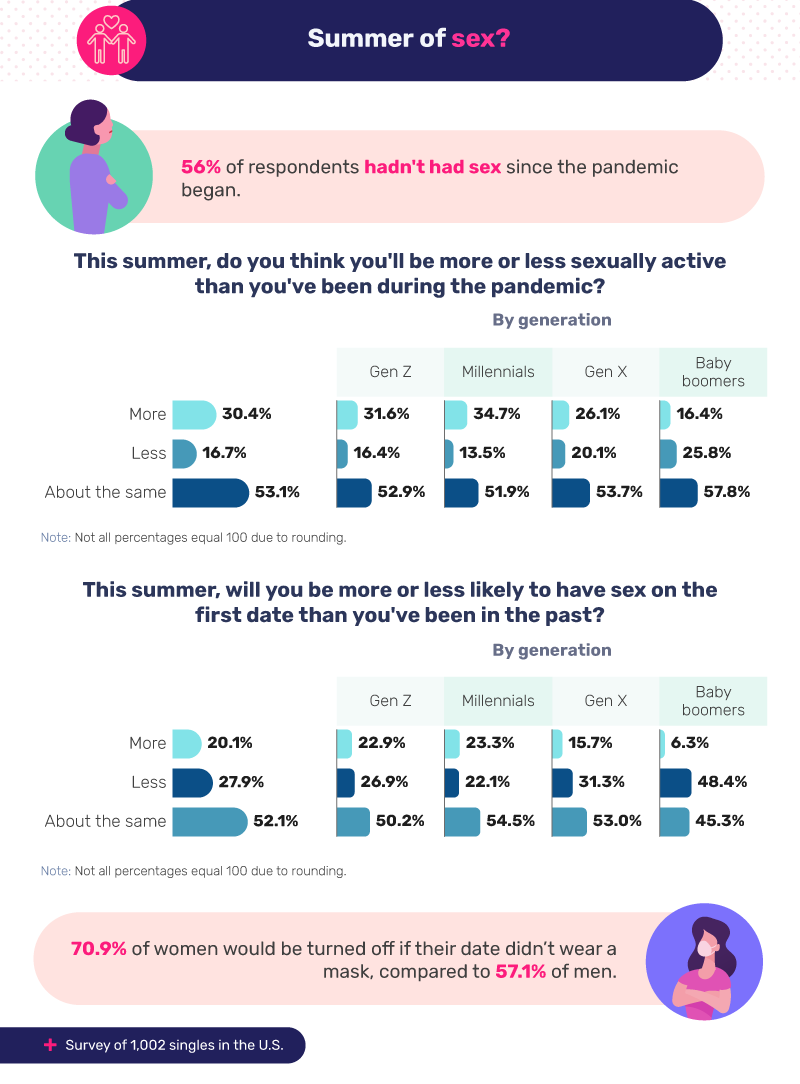 With more than half of respondents admitting they hadn't been intimate since the pandemic started, we asked if they're planning to jump into bed a little quicker than they may have before. Twenty percent of respondents claimed they'd be more likely to have sex on a first date once they are back in the game, while nearly 28% were erring on the side of caution saying they'll be less likely to do so.
Millennials and Gen Zers were about four times as likely as baby boomers to say they were more apt to have sex on the first date. Perhaps baby boomers are taking their health more seriously post-COVID, with almost half of them being less likely to sleep with someone on the first date than they were before the pandemic.
Risking It for Love
Our respondents intended to keep things casual this summer. When asked how many people they plan on dating, the average response was four individuals. Despite no plan to be monogamous, more than 52% of respondents admitted being worried about the risk of getting COVID-19 as a result of having multiple partners.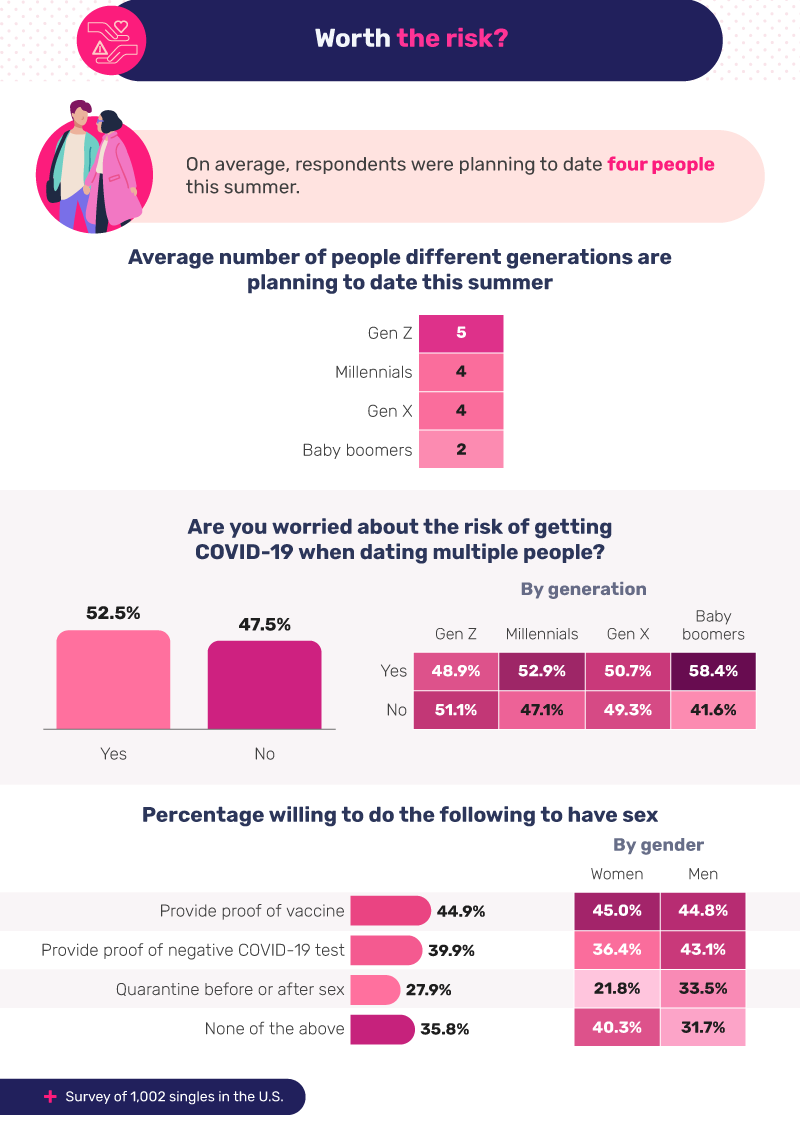 But, when it comes to getting lucky, people were willing to maximize their chances by providing proof of a vaccine, or brandishing a negative COVID-19 test. Women were slightly more likely to be open to providing proof of their vaccine, while men were more likely than women to provide proof of a negative test.
Staying Safe
As life starts to return to normal, many people are becoming more open to getting back to dating and finding a companion. Regardless of your relationship (or vaccine) status, it's still important to follow CDC guidelines and local ordinances for socializing.
Stay in the dating game by staying healthy. At Medzino, we offer affordable online consultations with doctors and provide prescription delivery. Prioritize your sexual wellness, and practice safe sex. We offer a wide variety of birth control and protection, along with treatments like PrEP to help manage your sexual health as you jump back into the dating pool this summer. Let us help you, so you don't miss out on any more dating opportunities than you already have in the past year.
Methodology and Limitations
This study uses data from a survey of 1,002 singles located in the U.S. Survey respondents were gathered through the Amazon Mechanical Turk survey platform where they were presented with a series of questions, including attention-check and disqualification questions. 51.4% of respondents identified as men, while 48.6% identified as women. Respondents ranged in age from 18 to 70 with an average age of 35. 22.9% of respondents were Gen Zers, 50% millennials, 13.6% Gen Xers, and 13.5% baby boomers. Participants incorrectly answering any attention-check question had their answers disqualified. This study has a 3% margin of error on a 95% confidence interval.
Please note that survey responses are self-reported and are subject to issues such as exaggeration, recency bias, and telescoping.
Fair Use Statement
Know someone looking for love in a post-pandemic world? Go ahead and share this article with them as long as it's not for commercial use and you link back to the full study.