What causes GERD?
The part where the esophagus (food pipe) connects to the stomach is known as the gastroesophageal junction (GEJ). At this junction, is a sphincter, known as the lower esophageal sphincter (LES). The LES is essentially a circular band of muscle around the lower end of the esophagus that is constricted. This is shown in the diagram below.
As you can see, the constriction formed by the LES separates the esophagus from the stomach. In a healthy individual, the LES only relaxes to let food pass through from the esophagus to the stomach, and is closed at other times, preventing the gastric acid (stomach juice) from flowing back up the esophagus. The LES also occasionally relaxes to release the air trapped in the stomach, which leads to a burp or belch.
In individuals with GERD, the LES relaxes at the wrong time (not to let food pass or for a burp), leading to reflux of the stomach contents, causing symptoms like heartburn and regurgitation (when the contents come up all the way to the throat). In chronic cases of GERD, the constant backflow of the stomach acid irritates the esophagus, which can lead to inflammation and complications.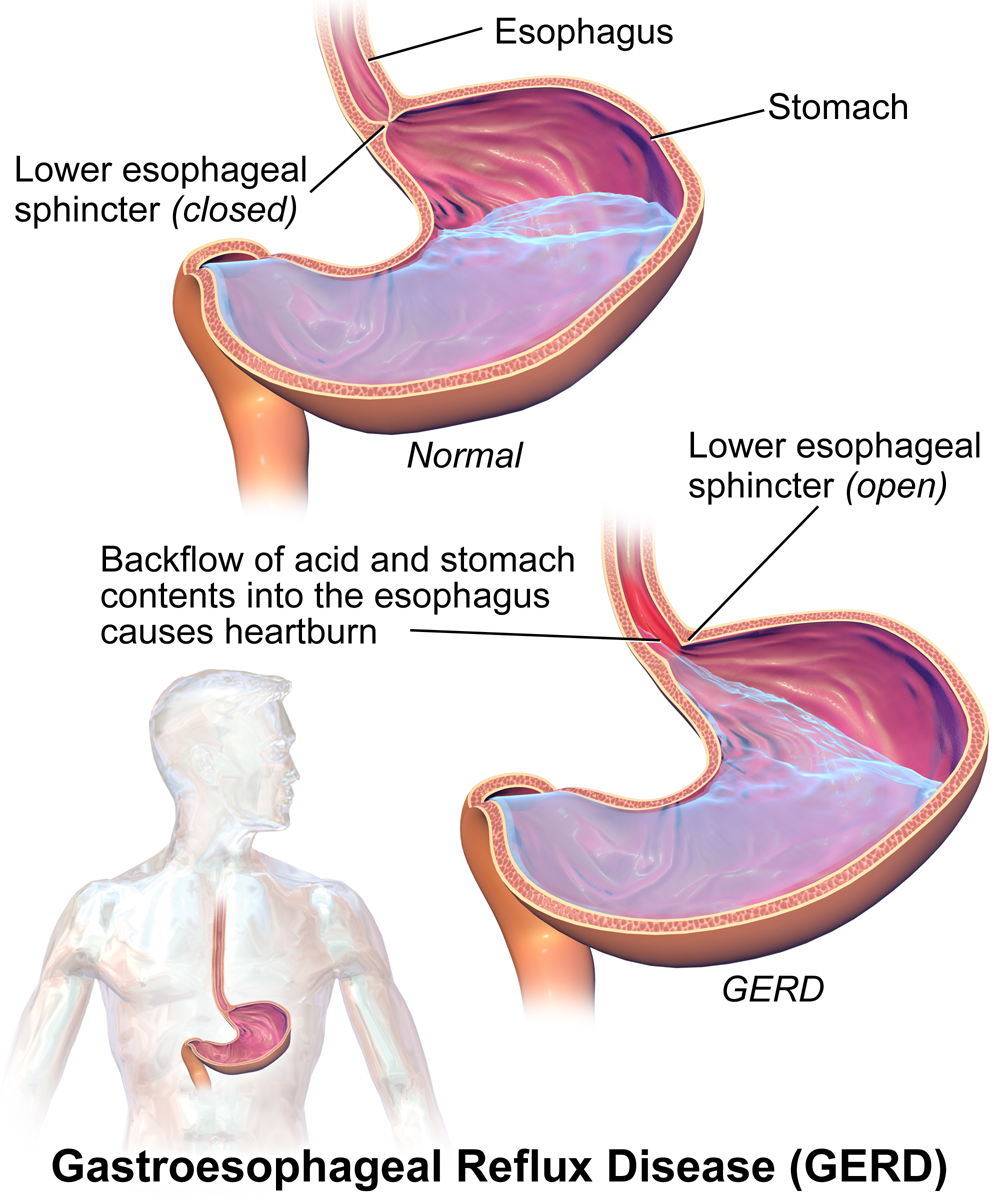 There are several causes of GERD, and include:
Eating certain foods, such as fried and fatty foods (which delay stomach emptying), citrus fruits (which are acidic in nature), and spicy foods (which irritate the esophagus and stomach)
Drinking certain beverages such as alcohol, coffee, and carbonated beverages which can increase gastric acid production and irritate the esophagus (food pipe) and stomach
Eating large meals or eating very late at night which could delay the emptying of the stomach and cause reflux
Smoking, which has a relaxing effect on the LES (since it is a muscle)
Certain medications, such as anti-inflammatories and nitrates
Obesity can increase the risk of reflux due to the excess belly fat pressing on the stomach
Hiatal hernia, a condition where a portion of the stomach bulges up into the diaphragm
Delayed emptying of the stomach due to conditions that cause the muscles of the digestive tract from functioning properly
Pregnancy, where the hormones of pregnancy cause relaxation of the sphincter over the stomach, and the growing uterus pushes up on the stomach causing acid reflux
Connective tissue disorders (conditions that affect the type of tissue that connects the structures in the body), such as scleroderma
Basically, acid reflux occurs when there is abnormal relaxation of the LES, which can occur due to or in addition to the following factors:
increased acidity of the stomach acid
delay in emptying of the stomach
increased pressure on the stomach
irritation of the stomach or esophageal (food pipe) lining